3.1 How do I set a task
(Take Facebook and Instagram tasks for example)
1. Add a task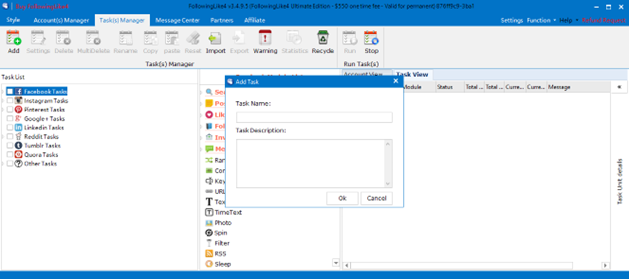 2. Add a module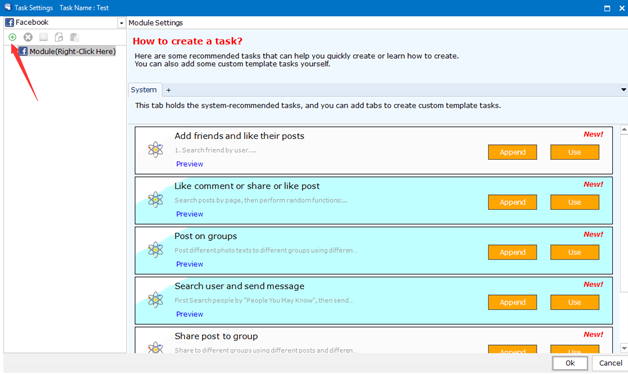 Here are some recommended tasks you may need to use on the right side.
3. Add an account module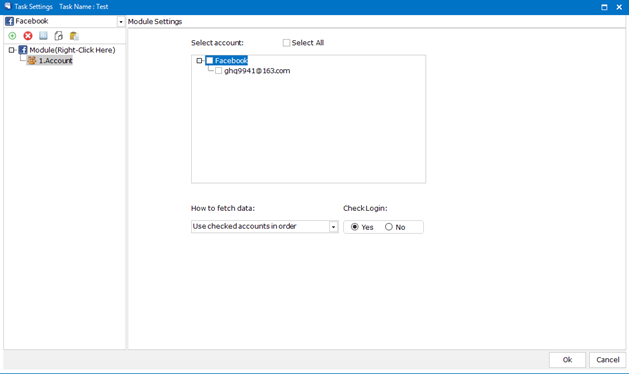 4. Think about the features you need and add a function module
We have Search, Post, Like/Unlike, Follow/Unfollow, Message, Comment, Share, etc.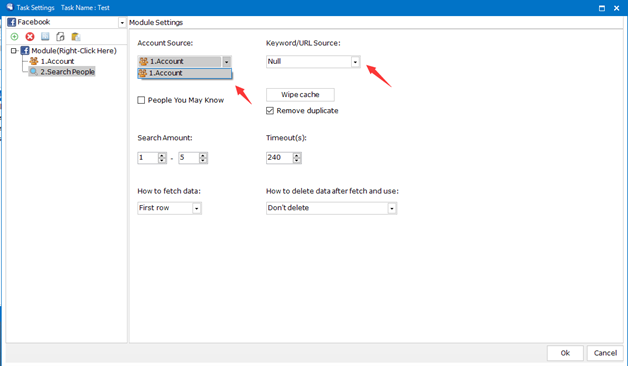 5. Add the corresponding parameters required by the function module
If it needs keywords, add a text module.
If it needs URLs, add a URL module.
If it needs pictures, add a photo module.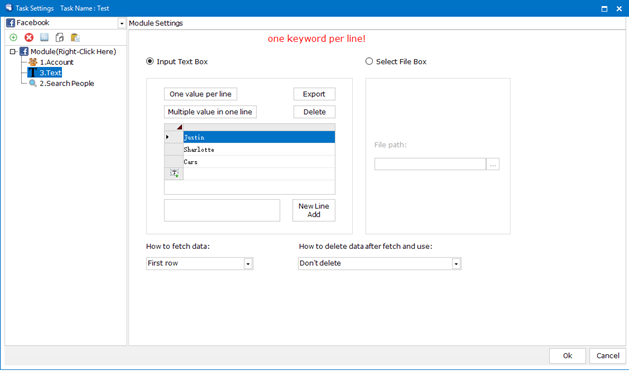 6. If you want to save the results, add a Save Results module and choose a
textfile to save your results.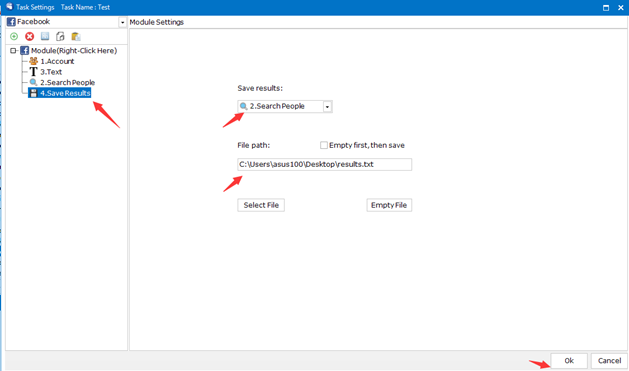 3.2 How do I set tasks if I want to post
3.2 How do I set tasks if I want to post
Follow the steps we mentioned above in 3.1. Think about what you need! Then
check your modules with the pictures below.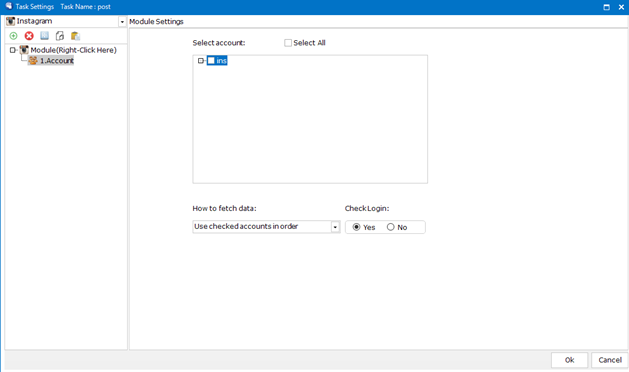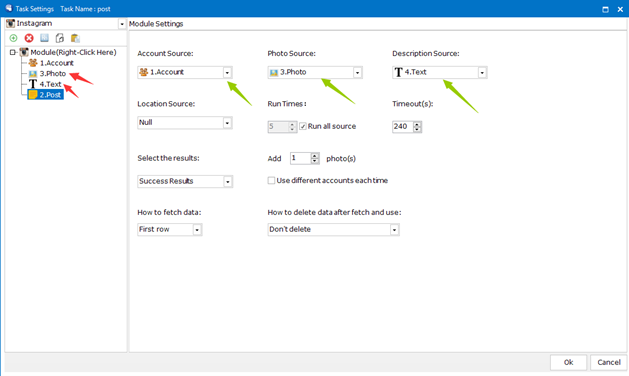 Did you add them right?
3.3 How do I use different accounts to post different pictures and texts.
This is a question about how do I fetch and use data.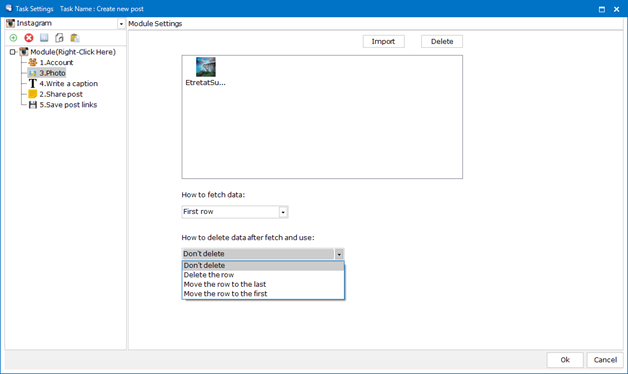 Normally we use First row---Don't delete
If you have more than one picture, keyword, and link to fetch, you should use
First row---Move the row to the last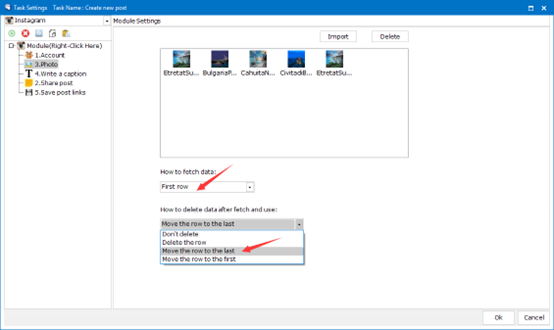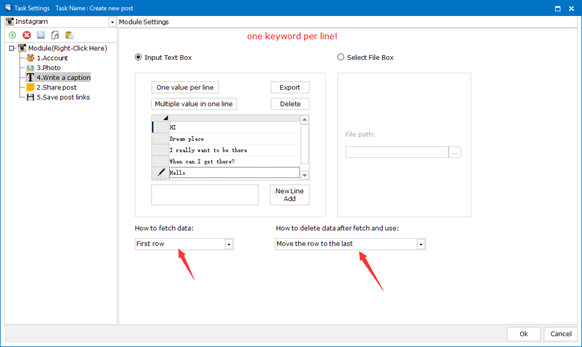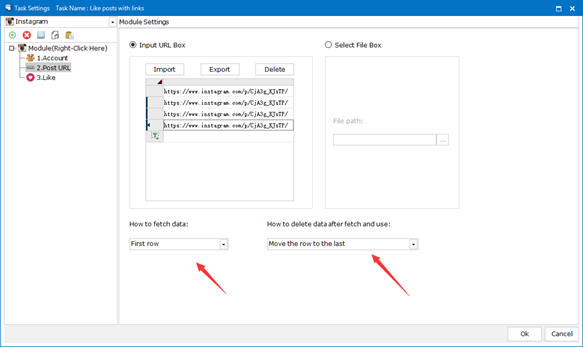 Only in this way can we use all the data one after another.
3.4 How do I Import and export tasks
Sometimes if you failed to run your task, we need to know how you set your task. Hence we need you to export and send us your task. Screenshots are complicated to send. After we set them right, we'll send it back to you and you need to import it back.

(This is a task from a customer. He added so many modules and failed to run. It's impossible to send us all screenshots. It's better to send us your task. It's a .js file)